Meet the speakers who will
ACCELERATE YOUR


STRATEGIC THINKING
---
Be energized by some of today's industry's top speakers and thought leaders as they discuss how to activate an employee powered culture within your organization.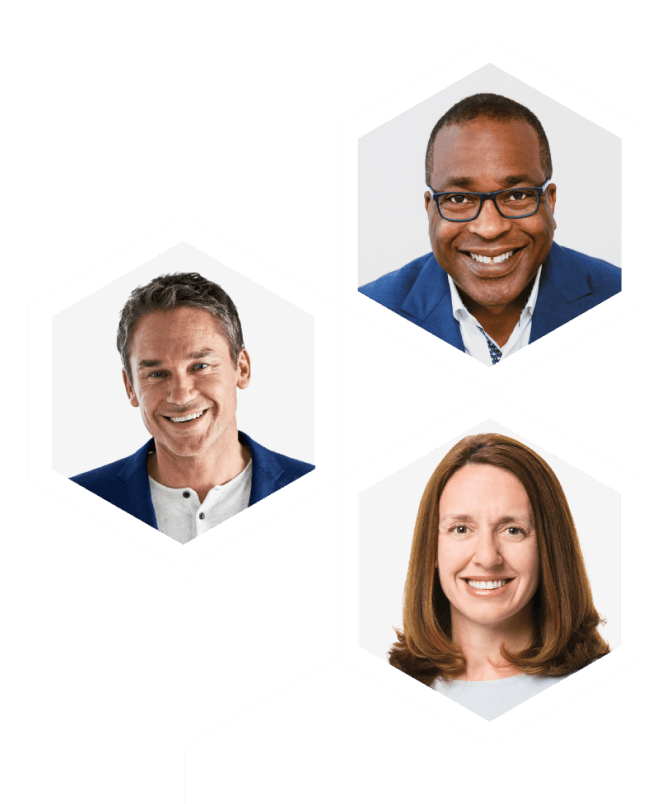 Bring your organization's values and strategy to life
Reach your employees in every context and fuel a culture of belonging in 2021, whether it's in-person, remote, hybrid, offline, on the frontlines, or all of the above. At ACE, you'll discover new ideas on how to strategically leverage recognition and gather insights about employee voice — plus, it's a great opportunity to network (virtually) with your peers.
Each year, Achievers carefully curates an event theme that's timely, informative, and ignites the imagination of HR leaders like you. This year, we are excited to explore how to activate employee powered cultures and create a greater sense of belonging through recognition, insights, and the employee voice. Because ACE is virtual once again, we're able to bring you even more live and on-demand content and special guest speakers — all completely free.
Networking and new perspectives
Meet like-minded professionals (virtually!) who are passionate about the future of engagement, reconnect with culture builders from previous ACE events, and participate in mindful discussions.
Put best practices into action
Garner learnings from other HR professionals and leverage Achievers' insights to inform your employee engagement strategy.
Meet our new products and features
Be introduced to the Achievers Employee Experience Platformâ"¢ and see our innovation in action through exciting platform enhancements.
Accelerate your professional development
An action-packed schedule with ample insights will ensure that ACE will accelerate learning and professional growth.
PAST ATTENDEES
ACE is the place where you can meet with thought leaders and network with HR leaders to discover best practices and learn about new ideas to improve employee engagement and drive a culture of recognition within your organization.
Sandra V Garcia
Global Compensation Lead for Strategic Initiatives
General Motors
ACE is an exciting event where global HR leaders gather to learn about the latest HR technologies and practices that positively impact organizational culture.
Lauren Brittingham
Director of Organizational Development
Bayhealth Medical Center
ACE is a great opportunity to gain practical insights from current Achiever customers sharing their experiences building cultures of recognition. I highly recommend ACE for any Achievers newcomer, it will truly give you the opportunity to immerse yourself in what Achievers has to offer.
Ashley Miller
Compensation
Assurion